Born in Chicago, Illinois I came from a musical family and have played music all my life. When I was 6 years old my dad showed me some chords on the ukulele, by 10 I was playing harmonica and guitar and at 14 I got my first electric bass.
Leaving home at age 15, I moved to San Francisco where I spent the next three years watching some of the greatest musicians in America perform.
In 1971 I moved to rural Oregon and lived in a commune where I played in a band called Peat Moss, performing at barn parties and road houses. I continued north to Vancouver, BC, Canada, in '73 and became a professional musician doing my apprenticeship in burlesque clubs and pubs.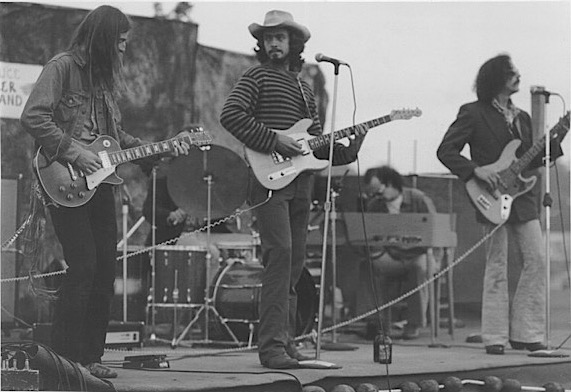 (L-R) Bruce Miller Band - Brent Shindel, Bill Buckingham (drums), Bruce Miller, Doc Fingers, Jack Lavin
(L-R) Geoff Eyre, Doc Fingers, Jack Lavin
1973 - 1976 saw me join forces with the amazing piano man Doc Fingers and backing the likes of singer/songwriter Bruce Miller, and legendary Vancouver musician Joe Mock.
1976 - 1977 were spent performing with Teen Angel and the Rockin' Rebels, including a 9 day tour of BC with the notorious DJ Wolfman Jack.
In 1978 I became the founding member of the award winning Powder Blues and wrote many of their hit songs over the next 5 years.
(L-R) Wailin' Demons - Jack Lavin, Rex Fugard, Al Walker, Tim Hearsey
1985 until 1994 saw me hosting Saturday and Sunday jam sessions and serving as house band leader at the Yale Hotel in Vancouver. With my band, The Demons (incarnations included Checkered Demons, Wailin' Demons, Demons du jour) I was given the opportunity to hire some of the greatest bluesmen in North America and play as long as 6 night engagements with:
| | | | |
| --- | --- | --- | --- |
| Otis Rush | Lowell Fulson | Lazy Lester | Eddy Shaw |
| Fenton Robinson | Guitar Shorty | Big Joe Duskin | Amos Garrett |
| AC Reed | Cash McCall | Johnny Heartsman | Henry Butler |
| Pinetop Perkins | Mark Dufresne | Tony Flaim | Mitch Kashmar |
| Tad Robinson | Steve Bailey | Liz Mandeville | Gary Preston |
Moving to the Fairview Pub in Vancouver in 1994, I continued to bring great blues to town with the likes of Shuggie Otis, Johnny Dyer, and Jeff Simmons as well as many local and regional artists.
The next decades saw me playing numerous club dates, festivals, concerts and tours with many fine blues men including:
Tours of BC and Alberta with Amos Garrett

Washington State Tour with Jim Byrnes, opening for Robert Cray

Shuggie Otis tour of BC, Washington and Oregon
In the summer of 1999 I brought live music to a small restaurant called the Cottage Bistro and began a Saturday jam session which I hosted for the next 3 years.
(L-R) Torben Holm-Pedersen , Steve Cross, Hank Lionhart, Ross Hall, Jack Lavin, Paul Wainwright, Dave Rowse
During 2002, I formed a band with the dynamic vocalist Hank Lionhart called The Kingpins, an R&B band featuring Hank's lion-voiced vocals and a tight horn section. Hank and I go back to 1981 when he was hired to make cover art for Powder Blues's 2nd album Thirsty Ears. After 2 successful CDs and many festival, concert and club dates Hank moved back to his former home of Edmonton, Alberta. A dozen years later we reunited in Victoria with several former Kingpin members.
(R-L) Jack Lavin, Marty Bernard, John Nolan
In 2010 I began hosting Blues on the River at the Kingfishers Pub Bar and Grill, in Maple Ridge, B.C., for 8 years with my pals Marty Bernard (guitar) and John Nolan (drums). Some of our local and international friends who performed with us were:
| | | | |
| --- | --- | --- | --- |
| Pete Sweetzir | Doc Fingers | Al Foreman | Tim Hearsey |
| Brent Shindel | Bill Hills | Gary Koliger | Brandon Issak |
| Al Walker | Mark Dufresne | John Lee Sanders | Mr. Boogie Woogie |
| Mitch Kashmar | David Vest | James Rogers | Willie MacCalder |
Burnaby Blues Festival 2018 (L-R) Al Foreman, Tim Hearsey, John Nolan, Jack Lavin, Jerry Cook, Steve Hilliam
In 2018 and 2019 I was asked by the Burnaby Blues and Roots Festival to do a performance/lecture on 4 regional blues styles. For these shows I was able to hire some of the best musicians in Vancouver. Both workshops were a resounding success and would likely have continued had the Covid 19 Pandemic not taken these kind of festivals out of the picture.
In 2018 I moved to Victoria, BC on scenic Vancouver Island. Having been there many times performing at clubs like Harpo's, The Sunset, New York New York and 94th Street, I had made friends with many of the locals. I was longing to live closer to nature in a less stressful situation and Victoria offered the perfect balance of these things while still allowing me to remain in the music business. Through this move I have had the opportunity to reconnect with several former bandmates and make many new musical friends.