(L-R) Chuck Berry, Lindsay Mitchell, Doc Fingers, Tom Lavin, Jack Lavin
Chuck Berry was a huge influence on me as the folk scene turned towards rockin' blues in the late '50s and early '60s, so needless to say I was very excited to get the call to play in his back-up band. He was scheduled to play the Vancouver Coliseum on September 3rd, 1976. I had to cut a trip to Chicago short in order to make the show which I gladly did. He arrived about 45 minutes late and the promoter asked if he'd like to meet the band (we were standing around the vehicle entry waiting for his arrival). He said he'd like to take care of the business first and after 7K US cash was counted out and safely in his locked brief case he was ready to meet us. His first question was, "Who is the bass player?" I raised my hand and he said to me, "When I look at you like this (squinting one eye with the other wide open) I want you to play boo-BOOM boo-BOOM and only one note!" He surveyed us all and said, "You guys are too cool-this is going to be a breeze!" The crowd was rowdy after being kept in suspense for so long and as we walked onto the stage Chuck noticed his towel and glass of water were missing from the top of his amplifiers. He handed me his guitar as he left the stage to find his missing necessities. I stood there holding that Gibson ES-345 for what seemed like an eternity while the crowd was going crazy. After a couple minutes he returned bearing his errant towel and water. Though the whole show he was giving me the 'look' as can be seen in this picture. To this day whenever we play Chuck Berry songs I always use his favourite bass line, boo-BOOM boo-BOOM. It was a thrilling experience although he used up much of his time on stage getting the audience to sing his biggest hit, My Ding-a-ling, dividing them in half to see who could do it louder.
In January of '79 I first played with Bo Diddley at the Commodore Ballroom. It was an unusual 3-band show featuring Dee Dee and the Dishrags, Bo Diddley and the Clash. In his middle slot Bo cranked out his old hits and played some masterful guitar on his custom made rectangular axe with numerous effects built in (no pedals for Bo!). I got him to sign a record-still cannot quite read it all. I got to perform with Bo a couple more times over the next dozen years and he always put on a powerful show.
(L-R) Jack Lavin, Otis Rush, Willie MacCalder, Al Walker, Brad Fisher (standing in for Dave Say)
Oct. '86 the Yale hosted the great Chicago Bluesman Otis Rush. Van airport was socked in with fog and Otis had to land in Abbotsford and arrived in time to do the last show but he really tore the roof off the joint! I have a live board tape from that show. Otis was simply amazing and a super nice person to hang with. The next night was thrilling and a packed house with a line up out the door. I will NEVER forget those nights!
I was a John Lee Hooker fan from the first time I heard him on record. Something about his voice, rhythmic guitar and foot stomping caught my 15 year old ear in a big way. I first saw him play at a rent party for the Mystic Eye head shop in the Haight-Ashbury district of San Francisco around May of 1968. He had a band of hippies called Foxglove backing him. They knew nothing about how to back someone like John Lee. He made the rules up as he played the song and in order to be with him you really had to listen and follow. We performed together three times over the years and he eventually got to know me. He'd let me know every time he saw me that he knew who I was by singing me a bit of a song I had written for Powder Blues, Hear That Guitar Ring. I once asked him why he didn't record that song which he seemed to like. He smiled at me and winked but didn't say a word. In '82 he came to Keystone Corner in Berkeley, CA where Powder Blues was playing and joined us on stage for a couple of songs. The last time I saw him was at the San Francisco Blues Festival in '85. He drove into the backstage area in his white Lincoln Continental license plate Boogie 1 and got out with a beautiful young girl on each arm. I said hi and we chatted a little but he was obviously distracted and I headed off.
I first met Lowell Fulson in the basement dressing room of the Ankor, one of Vancouver's nicer clubs in the historic Gastown District. I popped my head in the mostly closed dressing room door to see if any of my pals were in there. Lowell was sleeping on the couch in his red 3-piece suit with matching Stetson hat propped over his eyes. He must have heard the door creak because he sat right up and asked me to come on in. I did so as he began telling me, "I was just having a dream. In this dream I was writing a song and here's how it goes." Then in a voice still gentle from sleep he began to sing his new song. I have forgotten the words but I will never forget that experience or how his voice was the absolute epitome of the blues! We worked together several times, recorded his Blue Shadows album together in '81, and I hired him to headline Vancouver's first blues festival in '86. It was always such an honour to be on stage with this living legend, playing songs he wrote , many of which have become standards in the blues world.
Taj Mahal was a major influence on me from '68 when I first heard his debut record. We finally met up in Philadelphia, Pennsylvania in '82 during a Powder Blues tour. We opened the show with an hour set then Taj took the stage solo. I was amazed that the whole audience seemed to know every word to every song and he had them in the palm of his hand. During the break he asked us if we would like to join him for the final set which we of course accepted. It was a wonderful experience to perform with this soulful bluesman. I got to play with him 6 times between '82 and '91 and also visited him in Hawaii when he was living on Kauai. He had friends living down the street from me in Vancouver and we socialized there once too. It was at a Commodore show we did together in '89 that I asked if he ever performed any of his material from the first two albums. I mentioned Diving Duck Blues, Corrina Corrina, 6 Days on the Road and some others. He looked at me amazed and said, "You guys can play these songs?" I told him we could and we launched into his early album material. It came off great and Taj was very pleased with us. I have several cassettes from some of the shows we did with him including this one.
In 1968 I went to the Fillmore West in San Francisco to hear an English rock band called Traffic. Opening the show was a blues man named John Hammond. He was a one man band playing guitar, harmonica in a neck rack and pounding his foot on the floor. It was the most driving powerful sound I had ever heard one person make. His repertoire was mostly Mississippi Delta blues and to this day he remains, in my opinion, the best white Delta blues performer ever to come down the track. I met John for the first time in '81 when we shared a bill at Vancouver's Savoy night club. He invited us to sit in with him and we really hit it off. We performed together 6 times between then and '93 and became good friends over those years enjoying many fine meals and good times. In February of '86 we shared the stage at the Yale and during that visit John was gracious enough to play a harmonica track for an album my band The Demons was recording. He played incredible harp on my original song The Hottest Brand which was the title track of the album. I could never thank him enough for all the friendship and generosity he showed me throughout our association.
In November '84 Mama Golds hosted Pee Wee Crayton, a wonderful blues guitarist and singer. Crayton was a disciple of the great T-Bone Walker who literally taught Pee Wee to play guitar. We backed him for a 3 week engagement and got to spend lots of time hanging out. He returned for another 2 week stint in April of '85. His flamboyant show included a stroll through the restaurant, table hopping to play a little 'private' show for each table.
(L-R) Chris Nordquist, Shuggie, Jack Lavin, Mike Kalanj, Dave Say
In Oct, '97 I made arrangements to bring the legendary Shuggie Otis to the Fairview Pub in Vancouver. I had been a fan of Shuggie's since his first album came out in '69 when he was 15. He was a fine blues player and did the best readings of Freddie Kings instrumental hits I had ever heard. We had a great time that week end at the Fairview. On the strength of that performance I began to book a short tour for June, '98 with Shuggie doing shows in Victoria, Vancouver, Tacoma and the Portland Waterfront Festival in Oregon. We lost our keyboard man in Tacoma when Shuggie turned his amp up so loud it could be heard literally 8 blocks away! He never showed up for the last date at the Portland Festival saying the map he'd been given was inaccurate. Big thanks to Peter Dammann (festival organizer and guitarist for the late great Paul Delay Band) for lending his guitar skills, bandmate Louis Payne (King Louis) on Hammond organ and Vic Polyik for accompanying us on harmonica.
Guitar Shorty was a legendary figure on the West Coast music scene since the '60s. With his pyrotechnic stage show and soulful guitar playing and singing he was a major influence on his younger brother-in-law Jimi Hendrix. The climax of his show included playing with his teeth, toe of his boot, behind his back, behind his head, and a forward flying flip through mid-air that never failed to bring the house down! I performed with him 7 times at the Yale between '88 and '93 with various sidemen. Many years after our crossing paths I discovered that Shorty had made an album from a sound board tape of us backing him at the Yale. I was glad he included my intro as he walked on stage and his comment, "Let's hear it for Jack Lavin and the Demons!" Other than that there is no mention on the liner notes of us and certainly nothing coming our way for the 'session'. I am still glad for our association and the great times we had together. Thanks to John Damian Harrington for the introduction way back in '88!
Of all the bluesmen I had the pleasure of hanging and performing with, Big Joe Duskin has a special place in my heart. We played together for over 10 years and some of his stays in Vancouver were weeks long. Our first gig was at the Ankor in Gastown-a gorgeous venue with a real piano for Big Joe. He could boogie woogie like crazy and had a huge voice (he weighed in at over 350 lbs on a few occasions). We played at Expo '86, the Yale numerous times, flew into Queen Charlotte Island (Haida Gwaii) and played for the tribe, even played Angel Acres for the Hells Angels. Everywhere we went Big Joe made friends with everyone. I have some vids of us playing and an interview I did with him posted on Youtube at: dingdongdaddyfromchi. Sadly Big Joe left us in 2007 and I sure do miss him.
(L-R) Jack Lavin, Lazy Lester, Al Walker
The Yale presented Lazy Lester in June of '88. It was a little odd backing someone who would only tell you the key then bang his foot 4 times on the floor and expect the band to know the feel and how the song went. Ok-it was just blues but was it a rumba, shuffle, straight 8s, 6/8, 8 bar, 12 bar etc. We did pretty good though and Lazy was as good as his moniker, sleeping in the middle of the stage during the breaks!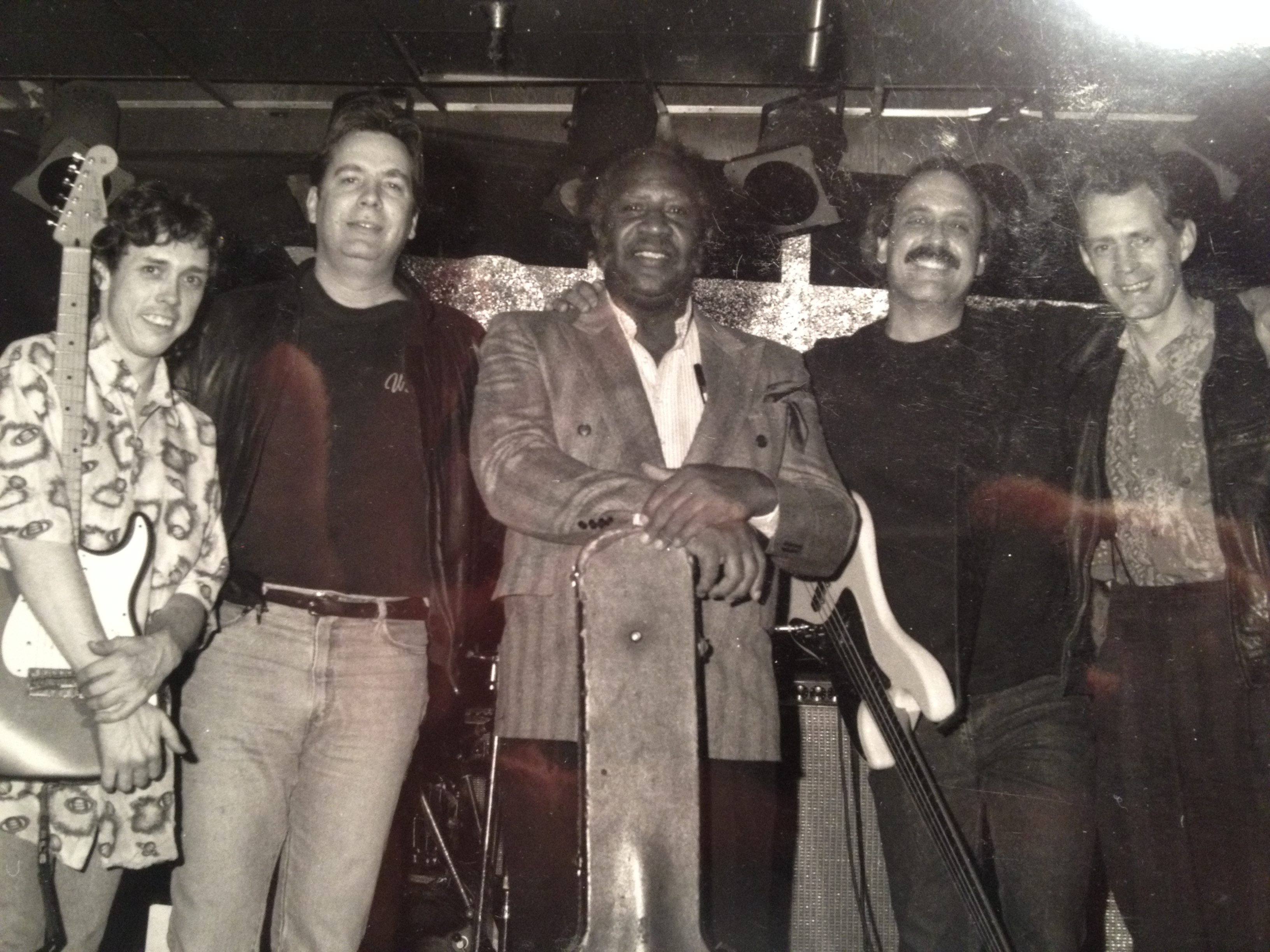 (L-R) Tim Hearsey, Mike Kalanj, Fenton Robinson, Jack Lavin, Chris Nordquist
Fenton Robinson was the jazziest and one of the most proficient guitarists I have worked with. Best known for his composition Somebody Loan Me a Dime (which was a million seller by Boz Scaggs who claimed the song as his own) Fenton was quiet and pleasant to work with. We played a week end at the Yale in Feb, '93 and in June, '93 at an outdoor show at the Plaza of Nations. Fenton died in '97 of a brain tumour.

(L-R) Muddy Fraser, Jack Lavin, Cash McCall, Mike Kalanj, Chris Nordquist
Cash McCall was a great musician and a super friendly person. We first played together at the Yale in December of '92 and had a wonderful time performing blues and soul tunes from his endless bag of material. I recall a Sam Cooke medley that went on for 20 minutes and contained at least 6 songs. Cash was a studio musician and songwriter at Chess Records working closely with Willie Dixon in the mid to late '60s. In 2015 I was in Memphis where he makes his home and got his phone number from my good pal and fine guitarist Clyde Roulette who had also worked with Cash. Cash remembered me right away and we had a great time catching up and reminiscing.
I had the pleasure of working with Snooky Pryor in June, '93 at the Yale. His gutsy singing and fiery harmonica were the product of over 50 years of plying his trade as a bluesman in Chicago and through the south. Touring North America along with his sidekick John Nicholas they brought authentic blues to countless stages. We only did 2 nights together but I felt like I had made a real friend by the time we said goodbye.
(L-R) Dave Vidal, Jack Lavin, Johnny Dyer, Darrell Mayes, Darryl Havers
Johnny Dyer was a real pleasure to work with, (Fairview Pub, May of '96). Born in Rolling Fork, Mississippi (as was Muddy Waters) Johnny was heavily influenced by the great Little Walter who he heard on the radio from nearby Tennessee radio stations. When I went to meet him I asked if there was anything special in his repertoire we should know. He asked me, "You play Blues?" I told him we did. He said, "Well then we'll have no problem." He was right-no problems-just fun! Thank you Michael Bruce Spencer for making the introduction!
In '85 I became a member of Amos Garrett's West Coast "Eh Team" and toured and did club dates with him till 2001. He was an amazing guitarist, vocalist, story teller, entertainer and lots of fun to hang with. In '89 we recorded his I Make My Home in my Shoes album containing a rare composition by Amos called Stanley Street. His playing on that cut and the whole record was simply outstanding! Amos does not make the trek to the West Coast from his home near Calgary much anymore and I miss him lots.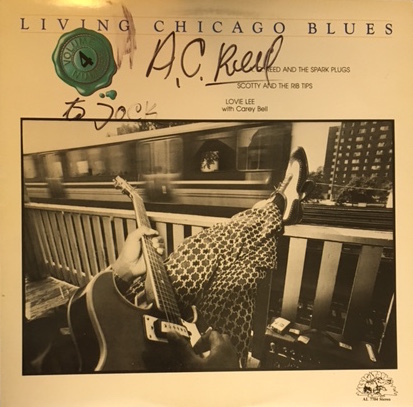 In May of '93 the Demons backed up A.C. Reed and boy did we have fun. After the first set I got a nice compliment from Mr. Reed: "Last night I played in Anchorage, Alaska and they had a rock band to back me. I'm so glad to have a blues band tonight!" Having opened for Albert Collins a couple times previously I was well aware what a dynamite sax man he was!
I played with Long John Baldry only a couple of times, the last being his 50th birthday party at the Commodore Ballroom in January of '91. We were neighbours on Kits Point for a few years and I used to see him and his pal Oz frequently at the eateries and watering holes in our barrio. Also we crossed paths on the road many times and shared the billing more than once. He was always such a gent and very dapper. I recall once in Edmonton we were eating in a fancy hotel restaurant and he was modelling one of his brand new custom made western shirts (green satin with gold fringe) and the waiter was cooking something table side which splashed some hot oil on his sleeve. He leaped up and shouted, "Christ!" He threatened to make them pay for dry-cleaning but doubt he actually went through with it.
The first time I met Jeff Healey was at the Yale Hotel in Vancouver in '86 where his band was performing. All of us musicians were amazed by this blind kid who played blistering blues guitar while it laid on his lap. I introduced myself during a break and asked if there was anything he wanted to do in town while he was here. He said he would love to shop for 78 rpm records if there were any stores that sold them. I told him I knew of one and we made a date for breakfast and records after. Inside the Golden Oldies Record Store I led him to the shelves of 78's. He began pulling out the bound volumes and inserting his hand into the sleeves. I asked what he was doing and he said, "I'm just 'seeing' what they have." I said, "Show me." He took out a vinyl record and correctly identified the label, artist and song! I asked how he did that and he explained that the lead on and off, texture of the label paper, weight of pressing and a few other things I can't quite recall gave him all the clues he needed to identify the record. Jeff played the Yale numerous times over the years and I was always there to witness this phenomenal player. He was always in attendance at my Saturday jam sessions at the Yale which I hosted from '85 till '94 adding some of the most inspired guitar work I have ever heard. We even went into the studio a couple times after hours and recorded some songs which I still have on cassette. I was devastated to hear of his illness and tragic death in 2008 at age 41.
Mitch Kashmar and I met at the Yale in the late '80s when he played with his excellent band the Pontiax. Here we are at the Edmonton Blues Festival where he blew the hell out of his harmonica and was a clear favorite among the multitude of harp players who played that day. I produced and played on his debut CD in '99, Crazy Mixed Up World. He has since done a lengthy stint with WAR and he tours the world extensively with North America's best bluesmen.
(L-R) Marty Bernard, John Nolan, Jack Lavin, Mark Dufresne
Mark Dufresne, from Seattle, WA, is a powerhouse singer with a 4 octave range, a brilliant harmonica player, and a prolific songwriter. He has won awards for these skills countless times from the Washington State Blues Society. He toured with Roomful of Blues from 2002-2006 and tours Europe regularly. We met in 1985 in Bellingham, Washington where we played a gig with legendary Frank Zappa and the Mothers of Invention member Jeff Simmons. Mark and I have played the Yale and numerous other Vancouver venues many times and have collaborated on a few CDs. I produced and played on his first CD, Out of That Bed. We also wrote and recorded his album Been Watching You. His zany and humorous songs, tricks like his circular breathing (he can hold a harmonica note as long as he wants) and incredible showmanship make one of the most in-demand bluesmen in the Pacific Northwest.
(L-R) Dave Vidal, Tim Hearsey, Tony Flaim, Chris Nordquist, Jack Lavin, Dave Woodward
Tony Flaim was the lead singer for Canada's most iconic and long-lived blues band Downchild. He performed and recorded 6 albums with them from '74-'89. During this time Powder Blues did several double bills with Downchild and Tony and I became friends. I hired him to play the Yale Hotel in '90 and between his huge voice and stage presence and his incredibly unique repertoire he was a big hit with Vancouver's blues community. He died in his native Toronto at the age of 51 in 2000.